Congrats to Julia Nathan and Natalie Walker, from NYC, who won the 2nd Annual Earwolf Holiday Carol Contest! Their original song, All We Want For Christmas Is Howard Kremer, is dedicated to their favorite male Who Charted host. 
Check out their song, and read the interview with the winners below! And thanks to all of our participants this year. We loved all of your songs!
How long have you been listening to Who Charted?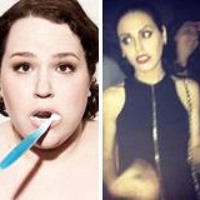 Natalie: "I started listening to Who Charted regularly this summer, and have been steadily making my way through the back catalog ever since."
Julia: "I've been listening to Who Charted regularly for about six months, although I've now listened to nearly every episode. I've been an Earwolf nerd in general for about a year-and-a-half."
What do you like about the podcast?
Natalie: "Since I've been making my way through the old episodes in tandem with listening to new ones every week, I really love that every episode feels like a perfect pop culture time capsule. And, of course, the repartee between Howard and KULAP (my iPhone autocorrected it to all caps, it stays because it is a pretty good indicator of my fervent adoration) is unmatched."
Julia: "I like that I don't have to see and hear everything in the world but I can still know what's popular, and I can still have fun while listening to the lovely Wie-Wie and KuKu."
Tell us about your inspiration for the song.
Natalie: "PREFACE: The luminous Julia is the mastermind behind everything, she wrote the song, sang, AND played banjo like a champion. Julia and I went to camp together long ago, but had lost touch. Then, one fateful evening this fall, she made a Facebook status about Who Charted and we reconnected over our mutual crush on Howard. After weeks of hearing about Howard's frustrations with 'playing the field', the Carol Contest seemed to us the perfect opportunity to show Howard how loved he is this holiday season!"
Julia: "Natalie and I have a habit of tweeting each other about Earwolf podcasts, and we recently started focusing on how amazing Howard is. I've especially gotten really into Dragon Boy Suede – there was a week-long period where I just listened to 'Buy You Clothes, Do You In 'Em, Take 'Em Back' on repeat. We've actually tweeted at him a few times, and when he responded we texted each other our girlish giggles. I've been teaching myself the banjo (as you can tell from the song because I'm not very good), and I've never written a full song before, but I decided to write one when the contest popped up. I asked Natalie to sing it with me, and we recorded it on my phone."
What are your favorite Howard moments or things he does on the show?
Natalie:  "Anytime everyone is ready to move on to a new topic of conversation and Howard refuses to give the old one up. Always gold."
Julia: "I'm guessing 'absolutely everything' isn't an option for an answer? Well, the latest episode where Weird Al cut his hair was incredible. But I have to say that the Jason Mantzoukas episode (#61, 'Time Traveling Skrillex') is probably my favorite because of  'Snaggletooth or Italy?' and 'Man on a Ledge or Van Halen?' I also think that the combined Kremer-Mantzoukas manliness in the Earwolf recording studio on that day must have been almost too hot to handle."